Michigan Restaurant Industry Encourages Diners To "Look For The Sign When Dining" from ServSafe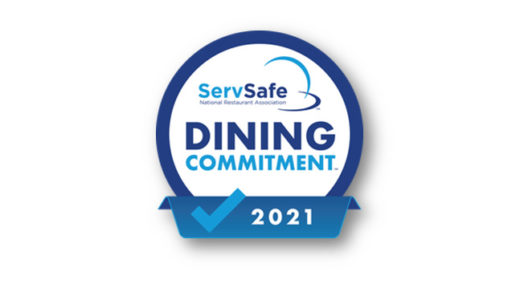 A campaign that was first launched in July 2020 is being renewed across Michigan today as the state's hospitality industry has finally been allowed full capacity in bars and restaurants now that all restrictions collection and face mask orders have been lifted.
The Michigan Restaurant & Lodging Association is renewing its partnership with ServSafe to meet new consumer expectations in the summer of 2021 and resuscitates the organization's advertising campaign that encourages those who travel to town to "Look for the sign when you dine."
The sign is the ServSafe Dining National Commitment Statement of companies that have signed the 2021 Safety Pledge.
After more than a year of pandemic precautions, consumers are ready to return to restaurants. To survive and thrive in the new economy, operators are finding ways to communicate to employees and guests that they continue to take health and safety seriously. Today, the Michigan Restaurant & Lodging Association (MRLA) and ServSafe announce an expanded partnership on the ServSafe Dining Commitment and the launch of a consumer advertising campaign highlighting how diners can "stay safe" by "looking for the sign. when they have dinner ".
Justin Winslow, President and CEO of the Michigan Restaurant & Lodging Association, said, "We have partnered with ServSafe and the National Restaurant Association on the ServSafe Dining Commitment to ensure Michigan restaurants have a a deliberate and credible way to show diners that they are offering safe meals. experiences, "and adds," The foundation of the restaurant commitment is ServSafe training and certification, because when advanced food safety is a core restaurant value, consumers can have peace of mind and peace of mind. have great experiences, so that the restaurant community can thrive again. . "
The ServSafe Dining Commitment was first launched in July 2020 by the National Restaurant Association and ServSafe to showcase restaurants demonstrating their continued commitment to health and safety precautions. The program has evolved to accommodate changing business requirements, requiring that operations:
Have a certified ServSafe manager among the staff of each site …
Agree to follow the National Restaurant Association's COVID-19 operating guidelines or company guidelines, local laws and guidelines …
Make a commitment to train employees as ServSafe Food Handlers and encourage them to take ServSafe's free COVID-19 training …
In addition to the ServSafe Dining Commitment decals on display at participating restaurants, diners in the Detroit Metro will soon begin to see advertisements encouraging them to find participating local restaurants by going to http://servsafedining.org.
Sherman Brown, Executive Vice President, Training and Certification for the National Restaurant Association, says, "For 30 years, ServSafe has been at the forefront of preparing restaurant and restaurant workers to deliver safe dining experiences. to their customers, while ensuring their safety. "and adds," We encourage operators and the entire restaurant and foodservice community to join us in welcoming diners into their dining rooms with the peace of mind that their restaurant is adhering to the pledge. ServSafe catering. "
Michigan Restaurant & Lodging Association (MRLA) is the recognized leader in Michigan's hospitality industry, providing essential services to the restaurant and lodging community. Founded in 1921 as the Michigan Restaurant Association and now known as the MRLA, the Association represents more than 5,000 food and lodging establishments in Michigan. The industry plays a vital role in Michigan's economy, employing more than 595,000 people and generating nearly $ 40 billion in annual sales.