Disrupting the restaurant industry with HungerRush's Brian Duncan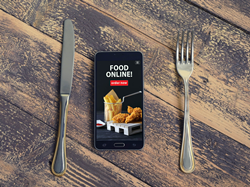 Restaurants can use sophisticated artificial intelligence to manage orders taken by text or phone just like a person would. Customers won't have to download one more special app for their favorite restaurant.

TAMPA BAY, Fla. (PRWEB)
March 07, 2022
Even though there are several apps for ordering food, around 50% of all orders are placed over the phone. However, restaurants face huge low-tech issues related to labor issues and rising wages. They struggle to find the workers to keep up, which creates bottlenecks in services. When they find staff, they have to pay a lot more than just five years ago. Large corporate restaurant chains have a huge online presence, but the bulk of restaurants in the United States are independently owned and operated. Their low-tech problem is twofold. They don't have the means to provide sophisticated technical solutions and customers are now used to using the same old solution: taking orders. These numbers are higher than all national brands combined.
But between Brian Duncan, director of business development at HungerRush, who explains to KJ Helms, host of the Disruption/Interruption podcast, that the pandemic has accelerated the trend of off-premises dining as more people have become accustomed to it. Restaurants can use sophisticated artificial intelligence to manage orders taken by text or phone just like a person would. Customers won't have to download one more special app for their favorite restaurant. Since customers only need their phone to order, smaller restaurants can bypass the costs of services like Uber Eats and Doordash. They won't need to compete with big chains that can pay for top Google search results.
1. The major problem in tech startups is that people over-complicate the solution to the problem. Consider high-tech solutions for low-tech problems.
2. COVID has only accelerated the number of people leaving the restaurant industry.
3. We're overwhelmed with apps for restaurant orders, which is why Grubhub and Uber Eats have grown in popularity.
4. Larger restaurants can spend more on higher search results locations, unlike smaller businesses. This will reduce their ranking on Google listings.
5. Text-based AI learning depends on the breadth of data provided. The more frequently you send SMS commands, the more it learns and corrects command errors.
6. SMS order is more suitable than calling to place an order in a noisy environment. Additionally, the AI ​​will also recall your last command.
7. Half of all restaurants could be virtual by 2030. Direct human interactions will be reserved for special occasions.
Disruption Interruption is the podcast where you'll hear from the biggest disruptors in the industry today. Find out what motivated them to make changes and how they overcame opposition to adoption.
Interrupt Interrupt can be listened to via the Podbean app and is available on the Apple App Store and Google Play.
About Interrupt Interrupt:

Disruptions are happening on an unprecedented scale, affecting all sorts of industries – MedTech, Finance, IT, eCommerce, shipping and logistics, and more – and COVID has shifted their timelines by a full decade or more. But WHO are these disruptors and when did they say: "THIS IS IT! I GOT IT!"? Time to Disrupt and Interrupt with host Karla Jo "KJ" Helms, veteran communications disruptor. KJ interviews bad a**es who are disrupting their industries and changing economic networks become obsolete with an establishment resistant to progress. It delves into uncovering the secrets of industry rebels and silent revolutionaries who discover common – and not-so-common – traits that are changing our economic markets…and our lives. Visit the major pioneers of the world who persist in succeeding, despite the arrows in the back to http://www.disruptionrupture.com.
About Karla Jo Helms:

Karla Jo Helms is the Chief Evangelist and Anti-PR(TM) Strategist for JOTO PR Disruptors(TM).

Karla Jo learned first-hand how ruthless business can be when millions of dollars are at stake, and how the scrutiny of public opinion often determines whether one company is happily chosen or another abruptly rejected. As an alumnus of crisis management, Karla Jo has worked with litigators, private investigators and the media to help restore goodwill companies back into the good graces of public opinion – Karla Jo operates on the ethic of doing it right the first time, not counting on a second chance and doing what it takes to excel. Helms speaks globally about PR, how the PR industry itself has gone astray, and how, in the right hands, companies can harness the power of anti-PR to boost markets and influence market perception.
About HungerRush

HungerRush is driving the transition from the POS terminal of the past to the integrated POS system of the future. They call it the HungerRush 360 Restaurant experience, enabling a 360-degree view of everything a restaurant needs to succeed, from customers served to operations and the employees who serve them. HungerRush can be found online at HungerRush.com
About Brian Duncan:

Brian Duncan is an experienced business development and sales leader with over twelve years of leadership experience in strategy, director and consultative sales roles. He specializes in SaaS sales for startups and Fortune 1000 companies, team building, sales strategy, C-level negotiations, and new business development. Brian can be found online at linkedin.com/in/brian-j-duncan/
Share the article on social networks or by e-mail: